About The
District Grand Lodge Of Cyprus
On 20th June 1980 at Jerusalem Street, Limassol, The District Grand Lodge of Cyprus under the U.G.L.E. was Constituted by the Pro Grand Master Most Worshipful the Right Honourable the Earl Cadogan and his officers from Grand Lodge. At this time there were 7 English Constitution Lodges in Cyprus and since 1980 the District of Cyprus has flourished and now has 17 Lodges ranging under it's banner.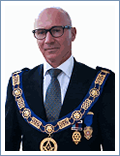 R.W. Bro Michael C. Hadjiconstantas
District Grand Master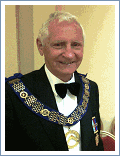 V.W. Bro Gerald L. Goldsack
Dep District Grand Master
District Grand Lodge of Cyprus Administration 2018 – 19

Front Row:
DistGSec: W Bro RS Humphries PAGDC.
DistSGW: W Bro Kyriacos Andreou PGStB.
DepDistGM: VW Bro GL Goldsack PGSwdB.
DistGM: RW Bro MC Hadjiconstantas
AsstDistGM: W Bro LP Zachariades PAGDC.
DistJGW: W Bro M Pantelides.
PresDistBGP: W Bro JT Lace PAGDC.
Back Row:
DistGDC: W Bro DOV Hubbard MBE PAGDC.
DistGStwd: W Bro Dr A Ashdjian
DistGTreas: W Bro KJ Fickling TD
DistGMentor: W Bro IP McLean
DistSGD: W Bro G Hadjiconstantinou
DistAGSec: W Bro MG Coombs
DistGSuptWks: W Bro KE Hart MBE
DistGSwdB: W Bro P Nicolaides
DistJGD: W Bro D Penelrick
PresDistBBen: W Bro M Stephenson PGStB
DistGStB: W Bro UA Lennartz
DistGOrg: W Bro CN Jeary PDistGSuptWks
DistGChStwd: W Bro WJ Mills
DistGStwd: W Bro Goddard
DistDepGDC: W Bro AW Cook PDistGSuptWks
Unable to attend:
DistGChap: W Bro AP Vorkas PAGDC
DistGTyler: W Bro S Achillides